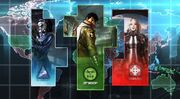 The Secret War is a social browser-based game divided into two phases.
The first phase was launched by Funcom on August 28, 2011.
This first phase allowed the players to access a brand-new personality test that would let them find out what secret society they were mostsuited to join, or they could simply choose one of the secret societies as they saw fit.
The second phase was launched on April 18, 2012.
The second phase introduced the players to a web-based community game where they can perform various actions on a global map in order to expand the influence of their secret society and climb within their ranks.
One of the activities players get to do is recruit friends directly from Facebook. Friends who join the same secret society as the player can become their agents, which in turn can be deployed in countries on the global map. This will expand the players secret society's influence in that country, and it will help them climb through the ranks of their society!
Players will also access unique content every week -- such as screenshots, artworks and articles containing information about the game -- that can be shared as 'propaganda' with their friends, further expanding their secret society's influence and allowing them to climb through their ranks.
By progressing through the ranks of their secret society, the player unlocks exclusive in-game items such as weapons and clothing, unique achievements and -- if they reach the highest rank -- guaranteed beta access! There are also other exciting rewards and prizes available such as the chance to visit the Funcom studio in Montreal and even get their name featured in the game world! [1] [2] [3] [4]
Ranks

| Title | Points Required | Rewards |
| --- | --- | --- |
| Initiate | 35 points | Health Elixir, Non-faction Cap, Sword of Rising Storm, Faction T-shirt. |
| Loyalist | 80 points | Marinette of Lost Souls, Non-faction Jacket, Faction Cap, Faction Flare Gun. |
| Operator | 250 points | Bonnie & Clyde, Non-faction T-shirt, 4 hour XP Elixir, Faction Pants. |
| Infiltrator | 400 points | 8 hour XP Elixir, The Dream of Winter, Hawkeye, Non-faction Pants. |
| Agent | 750 points | The Punisher, Spark of Zeus, Faction Jacket, Pioneer Title. |
| Secret Agent | 1,200 points | 12 hour XP Elixir, Guaranteed Access to Beta Weekends, The Showstopper, Vampire Claws. |