After Ground Zero's portents of the Filth in Tokyo, a Faction introduction to Weapons and the magical travel through Agartha, which leads to Solomon Island.
The Training Room is worthwhile returning to; it is the only place Illuminati players have the opportunity to buy Abilities and then return them for a refund of their Ability Points. They must be returned while still in the Training Room; any abilities purchased outside it, or inside and not returned within it, are permanently purchased and the AP is not refundable.
Other Faction versions: Chaos Practice (Dragon), and Might Makes Right (Templars).
Tier 1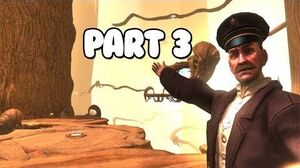 Exit Zurn's lab.
Go to the lobby.
Find and enter the Test Chamber.
Tier 2
Make contact with the combat director.
Tier 3
Equip a weapon then return to Director De la Guardia.
Pick up the phone.
Exit the Test Chamber, and go meet your primary contact.
Tier 4
Find the corridor that leads deep into the warehouse.
Follow the corridor into the warehouse.
Find the Agartha entrance.
Tier 5
Enter Agartha.
Tier 6
Find and enter the portal to Kingsmouth Town on Solomon Island.
No rewards.
Community content is available under
CC-BY-SA
unless otherwise noted.